Easter Extravaganza at the Rio Nido Roadhouse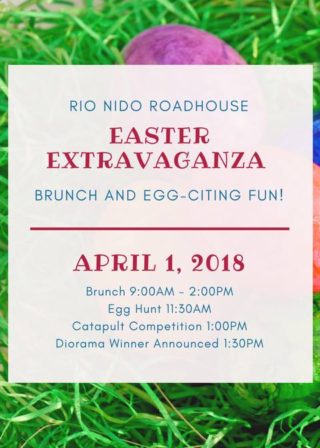 Fun for the whole family! Mimosa and Bloody Mary specials!
FREE activities for the kids and prizes!
Russian River Fire Department Engine will be available for photo opportunities and learning!
Catapult Competition:
No electricity, gas, explosives, compressed air, or kits. Must be all natural and original designs. Use good judgement this is a family fun event!
Diorama Rules:
2018 Theme: Presidential PEEPS
You get 3 flings; best of three is what counts!
12″x12″x12″ is the maximum size allowed.
One box of PEEPS per contestant and an expenditure of no more than $30.
Drop off dioramas any time throughout the day!
JUDGE: Beverly Bird of the Russian River Art Society
Easter Egg Hunt:
This year, while the Roadhouse Lawn is under construction, we will host the Hunt at the Rio Nido Pee Wee Golf site. Thank you Home Owner's!
Meet at the Roadhouse at 11:30AM and we will all walk safely to Pee Wee Golf together!